NS East End Territory: Louisville, KY - Danville, KY
History
Norfolk Southern's East End territory covers a little over 90 miles of track between Tatem, IN (New Albany) and Danville, KY (SJ Tower). The East End was once part of the Southern Railway's Western Division up until the late 80's when it was merged into the Kentucky Division. In 2002, the Kentucky and Tennessee Divisions were merged to form the Central Division.
Traffic
The line between Louisville and Danville is relatively busy and sees anywhere from 25-30 (and sometimes close to 40) trains a day. Four pairs of freights (111/112, 160/161, 167/168, 375/376), two pairs of intermodals (223/224, 22A/23G), several autorack trains (239, 275, 283, 284, 285, 287, 294), four locals (T19, T22, T79, and TL05), and a pair of steel coil trains (60A/61A) are seen daily. Grain, coal, other bulk commodities, and extras run on an as needed basis. The Louisville District can be VERY busy during grain shipping season. Another pair of intermodal trains (24N and 26Z) run roughly 2-3 times a month.
Operations
The East End at one point was dispatched by Form 19R train orders and clearance cards. This lasted until the early 1990's when this was changed over to Track Warrant Control, and TWC is still in use today. CTC is used on the territory between Tatem and Dumesnil and between West Talmage and SJ Tower. An "island"of CTC was installed at Manetta when the Shelbyville Mixing Center opened. Train Dispatcher 3 doesn't simulate track warrants, so the whole sim is operated by CTC.
The Sim
This East End sim was created by Gene Hardy and is an accurate representation of current day operations on the Louisville District. To simulate TWC meets, Gene has used slow speed switches to represent a train having to stop and line the switch manually. He's done an excellent job on this territory, and this is the fourth or fifth version.
Screenshots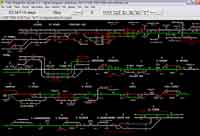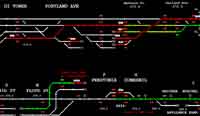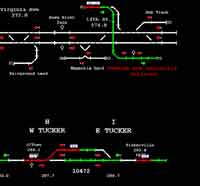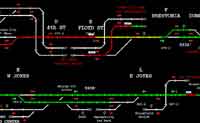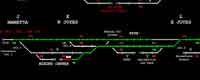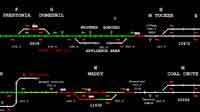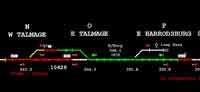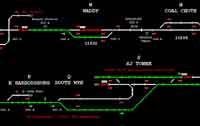 Click Here to Download the East End Territory